Year-Round Comfort
Budget-Friendly Special
HVAC Maintenance Plans
A Cut Above the Rest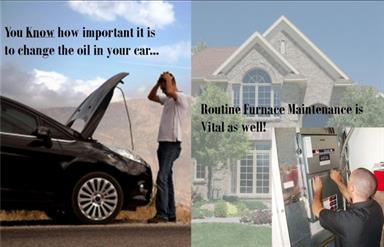 Every fall and spring it is a good idea to hire an HVAC company to inspect and perform maintenance on your heating and central air systems. The purpose of preventative maintenance is to keep your units efficient and effective all season long with no unexpected malfunctions while ensuring that they operate at peak efficiency. It is important to understand that no matter how costly the system is or what the manufacturer promises, an intricate piece of mechanical equipment is subject to breakdowns and requires repairs every so often.
At Diamond Heating & Cooling, we know that staying on top of maintenance can reduce the incidence of repairs. In regard to furnace and air conditioner maintenance, we offer our customers Silver Membership that is only $19.50 a month. All types of systems qualify for this membership.
As a Silver Club member, you receive the following:
Free fall maintenance on furnace
Free spring maintenance on air conditioner
Free safety check
Guaranteed appointments within 24 hours
Two free 1" standard pleated filters each year
20% discount on all service parts and labor
20% discount on IAQ
$49 diagnostic fee
Blower motor pulled at discount
Benefits of Preventative Maintenance
Annual HVAC maintenance is your home or office's best defense against the cold of winter and heat of summer. You must consider the fact that several benefits of routine maintenance are immediate, while others prevent issues from developing in the future.
Some of the most common benefits of maintenance include:
Fewer repairs – If an HVAC technician catches a problem before it develops into a huge problem, you can avoid future, costly repairs.
Lower chances of a major, catastrophic breakdown – Whether it is during the summer or winter, if your HVAC system breaks down when you need it the most, it can result in major inconvenience and discomfort. If you schedule an inspection annually, the odds of experiencing a catastrophic malfunction will significantly diminish.
Lower energy bills – HVAC systems tend to slowly lose its ability to perform at top efficiency and keep your home comfortable over time, which means they must use more energy to meet your heating or cooling demands. More energy being used results in increased utility bills. So just as a car tune-up delivers improved gas mileage, your furnace or air conditioner consumes less fuel after receiving maintenance.
Longer lifespan of equipment – One malfunctioning HVAC component can cause a domino effect which can lead to the entire system to experience a breakdown. Regular maintenance prevents this issue from occurring and adds years to your equipment's lifespan.
Safer operation – A problematic HVAC system can also endanger your family or employees. For instance, an electric HVAC system can short circuit, resulting in a serious fire hazard if ignored. So the safety of those in your home or building is another reason to obtain annual maintenance.
Cleaner air – Having your air filters changed regularly is a simple way to improve your indoor air quality.
Become a Silver Club Member Today!
Clearly, annual furnace and air conditioner maintenance is something that needs to be taken seriously. Whether your goal is to improve the efficiency of your HVAC system, avoid experiencing a breakdown, or save money, annual maintenance can help you accomplish all of those things.
Contact us online or call (208) 273-9193 and schedule an appointment with our Boise heating and cooling technicians today. We serve customers throughout Meridian, Nampa, Caldwell, Middleton, and all of Treasure Valley.
Cooling & Heating Focused on You
Principled & Skilled Services
20 Years of Experience

Since 1999, our team at Diamond Heating and Cooling has been committed to customer service.

Dedicated to Integrity

Our service technicians are focused on making sure that you receive fair and honest services.

24/7 Emergency Services

Contact our team at Diamond Heating and Cooling today to get started.

Highly Skilled Service

Our professional technicians are very experienced and certified to provide superior services.

Free Second Opinion on All Major HVAC Repairs

If you are unsure about a price quote, we will gladly provide a second opinion.

Free Estimate on Equipment

It is not about what we can get from our clients, but what we can give to them.
See What Our Customers are Saying!
Absolutely thrilled with Jason's visit. He was very knowledgeable, thorough, and just a delight. He patiently answered all my questions and explained to me the way A/C works. Definitely top-notch service

- Diane Mc